Coul for the economy
A compelling economic case
Whereas the population of the UK has almost quadrupled and that of Scotland has almost doubled since 1850, Sutherland's population has halved, due to a a combination of neglect, a lack of will and investment from successive Governments. Sadly this trend is still ongoing.
The population of Caithness & Sutherland fell by 3.9% between 2011 and 2018 (working population -8.1%) and the populations of Sutherland and Easter Ross are predicted to fall a further 11.9% and 13.8% respectively by 2041*. In addition, the demographic of this falling population is ageing, with more and more people over 65. Our age profile is now one of the most elderly in the country.
A  recent report for Highlands and Islands Enterprise (HIE) concluded that the Highlands was "disproportionately impacted" by the COVID-19 pandemic, due to a greater reliance on tourism, the creative industries and construction, and a high number of self-employed workers. The region's unemployment has now more than doubled, from about 3% before the pandemic. Highland Council now expects unemployment to peak by April 2021 at about 7.7% in total, but with youth unemployment at about 12.6% – well above the national average. Having said this, we don't know what will happen when the furlough scheme ends: 35% of all Caithness & Sutherland workers were furloughed in 2020 – the highest level of all local authority areas in Scotland. GDP was forecast to fall between -11% and -19% in 2020. The HIE report also predicted a greater level of "economic scarring" and a slower recovery for the area than elsewhere, with a return to pre-crisis levels of employment "unlikely until 2023 at the earliest".
According to charity "Social Investment Business", some of our communities are amongst those worst affected economically by the pandemic and the COVID-19 impact is compounded by the region's vulnerability to Brexit with five of the six most vulnerable local authority areas in Scotland located in the Highlands and Islands.
New jobs are needed more than ever, particularly for our young people
It has long been the case that many of our young people have had to move south to find work and COVID-19 is making this problem worse as not only is it wiping out large numbers of Highland jobs, it is also wiping out many of the jobs our young people left to find, leading to higher unemployment and an uncertain future.
Highland Council report that the number of young claimants (16-24) for Universal Credit rose by 116% from March to October 2020.
New investment in our area is urgently needed to create jobs for our young people, securing their futures and boosting our local economy.
Yet there is increasing competition for government financial support, and an acute shortage of money.
A new golf course at Coul Links will be entirely funded by private capital, without recourse to public or third sector funding, thereby allowing Highland Council, Scottish Government and local voluntary organisations to allocate their precious resources to other projects in these difficult times.
Should the new golf course at Coul Links be approved, we are aware of plans to develop a new eco-lodge hotel at Coul Links farm, and several other multi-million pound hotel and accommodation developments in Dornoch. These associated developments – and the many more jobs they would provide – will simply not happen without approval for the golf course.
There would also be multiple smaller investments in realising business opportunities and creating new jobs all along the Dornoch Firth seaboard, from Brora through Golspie, Embo and Dornoch, and on via Bonar Bridge to Tain, Portmahomack and further afield.
In total, the golf course and associated developments are expected to generate over £50 million in private investment with no demand on the public purse. This would create great job opportunities for our young people, providing the foundations of rewarding careers and leading to employment opportunities all over the world.
The First Minister, Nicola Sturgeon, has announced a 'national mission to create jobs' is to be at the heart of her plans in the wake of the pandemic.  We sincerely hope she means what she says and, this time, allows the collective will of local people to take precedence over the political wheelings and dealings that occur in Edinburgh.
*Source: Highland Council Corporate Plan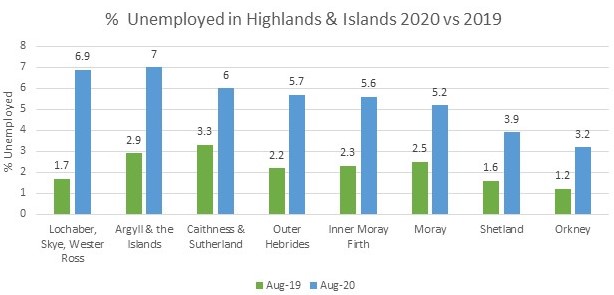 175 local jobs and over £50 million in private investment
If Coul Links Golf Course is built, the area will benefit from £10 – 12 million private investment in creating the new course, and in the region of £40 million separate private investment on the back of the development; including the building of a new eco-lodge hotel at Coul Links and the development and upgrading of several existing hotels in Dornoch.
There would also be investment in providing affordable housing for local workers.
The above does not account for the investment many other accommodation providers and businesses throughout East Sutherland and Easter Ross will undoubtably choose to make to capitalise on the opportunities the new golf course will create.
Coul Links golf course is expected to create 175 Full Time Equivalent (FTE) jobs locally and 311 within the Highlands within 5 years of its inception, according to an expert study commissioned to assess the golf course's impact by BiGGAR Economics. *
This contrasts favourably, for example, with the development of the Spaceport in northern Sutherland which is planned to be built on land with as much, if not more, protection than Coul Links, and will dump 12 tonnes of non-biodegradable waste into the sea every year. It was, however, nodded through by the Scottish Government, as was the recently approved second Donald Trump golf course in Aberdeenshire.
Communities for Coul support the development of the Spaceport but, unlike Coul Links, it will depend on money coming from the public purse.  Also, is it realistic to expect the relatively small number of largely specialist jobs it will create to go to local people and, in particular, our young local people?
| | Investment | Where from? | Local Jobs | Highland Jobs |
| --- | --- | --- | --- | --- |
| Coul Links | £50 m | Private | 175 | 311 |
| Spaceport | £18 m | Public | 61 | 250 |

*Opponents of Coul Links also commissioned an economic impact study. Although we reject their findings, that study acknowledged that the development would still create 79 local jobs and 275 jobs within Highland – from the golf course alone. 
Additional community support
Communities for Coul will secure a commitment from the developers of the Coul Links golf course and associated accommodation to provide the communities around the Dornoch Firth with many other benefits, including but not limited to:
Affordable housing
A significant share of the profits generated by Coul Links golf course to be distributed to local good causes
Support to other local golf courses to help them develop
Marketing the Dornoch Firth as a global golfing destination
Training and placement opportunities for students studying at the University of the Highlands & Islands in Dornoch
Provision of transport to bring employees from other towns to their jobs at Coul Links and in Dornoch