To fully restore and protect this beautiful place for ever, the local community believe it should be home to one of the world's best and most ecologically friendly golf courses.
This is our home:
the wild and beautiful Dornoch Firth in the Northern Highlands of Scotland
– and we love it that way.
We are therefore delighted to have found a path to a sustainable solution for the care of the environment at Coul Links.
We are Communities for Coul – people from the Dornoch Firth area, who believe we should stand up and be counted on local issues which affect our lives.
Coul Links near Dornoch was designated part of the Loch Fleet "Site of Special Scientific Interest" (SSSI) in 1984, but sadly, there has never been enough money available to protect it properly. It is now so degraded that it needs the very best in 21st Century conservation to restore and protect it. Passive protection alone is insufficient, as is the management agreement currently being implemented at the behest of NatureScot, which is limited in both scope and funding.
If we achieve planning permission to develop a tiny part of this land for an environmentally friendly, world-class, Mike Keiser / Coore & Crenshaw golf course using about 0.1% of this SSSI, it will generate enough money to restore and protect the whole of the Coul Links site – and many other good things besides, not least the creation of an unprecedented number of much-needed, sustainable jobs for the young people of East Sutherland and Easter Ross.
Community ballot:
A community ballot, held in Summer 2021, showed almost 70% of local people were in favour of this new course.
A brilliant, natural & contemporary, "light-touch" 18-hole golf course with clubhouse and pro shop. Developed by Mike Keiser and designed by Coore & Crenshaw. (NOTE: No memberships and no golf buggies).
21st Century conservation for the site. AKA full funding for a new Environmental Management Plan (agreed with NatureScot) to be implemented across Coul Links, paid for and managed by the golf course.
Eco-tourism will be encouraged with the guidance of NatureScot – with planned walks and events at the appropriate time of year.
Electric shuttle buses will connect Coul Links with the towns and villages of Brora, Golspie, Embo, Dornoch and Tain.
The "Dornoch Firth Golf Trail" will be established, marketing our golf courses throughout the world.
A new, luxury, eco-hotel will be built on farmland at Coul, in the format of a turf-roofed collection of crofts.
Up to 400 local, sustainable jobs will be created in an area where depopulation is a major problem – due to a longstanding dearth of career opportunities for young people. This will transform our economy.


Above: The 13th hole, with clubhouse behind (artist's impression) and the Croft which will become the pro's shop.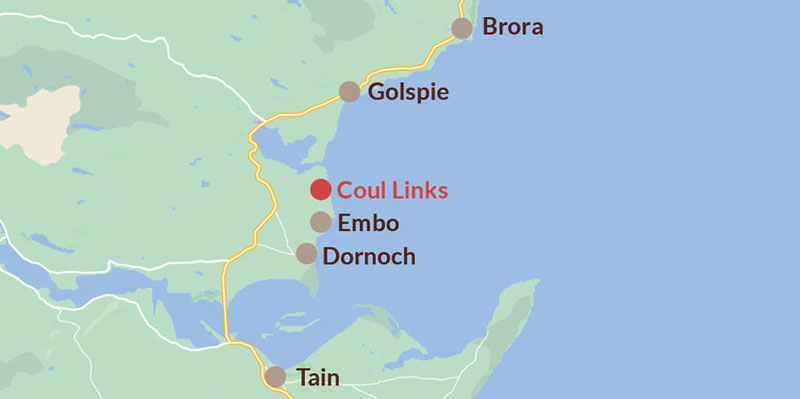 Electric shuttle buses will connect Coul Links with Brora, Golspie, Embo, Dornoch and Tain
Thank you for your support!
We are thrilled that our crowdfunding appeal to raise £150,000 to allow us to apply for planning permission has been successful.
We are most grateful to everyone who so generously supported our appeal.